In the cosmetics industry, which values ingredients and efficacy most, many cosmetic manufacturers in China are on the road to improving quality of their products. Recently, the First Green Fish Excellent Cosmetics Formula Competition sponsored by Vitargent Fishqc.com & Chinabeauty.cn has announced winners, of which NBC's three star formulas were awarded the "Green Fish Quality Excellence Award for Cosmetics". All the formulas in this competition were tested for safety and efficacy by Vitargent Biotechnology Limited via the [Nobel Prize] for biological detection technology of fish embryos, which has higher standards.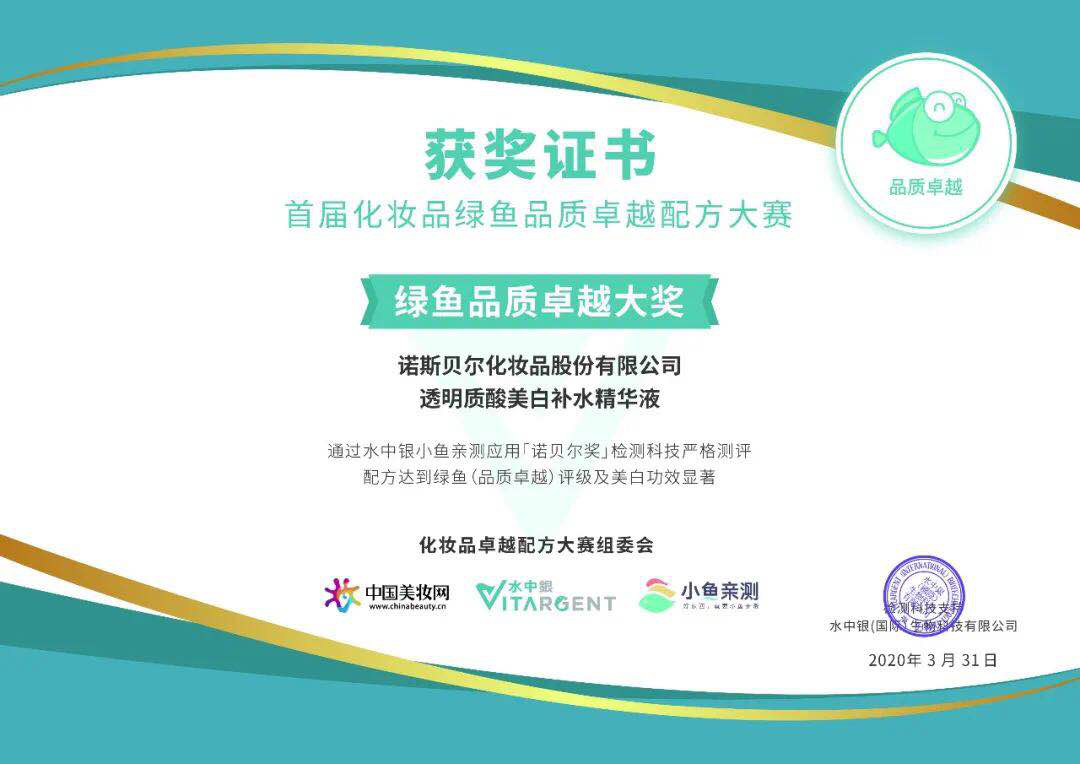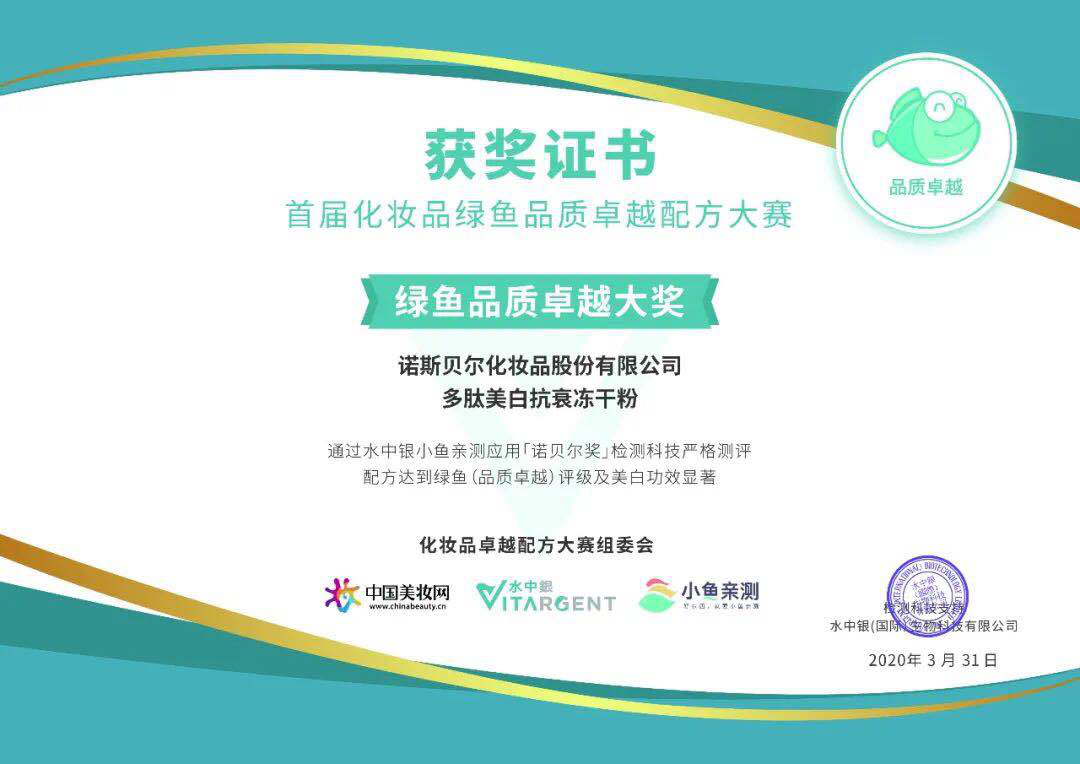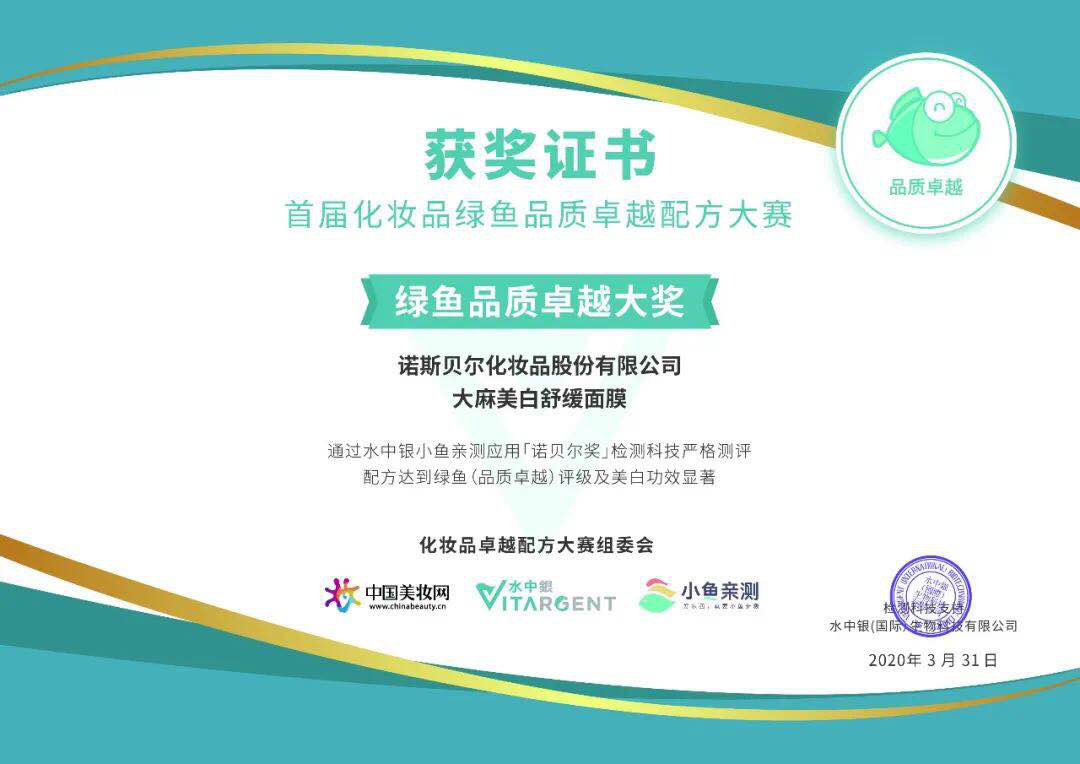 Vitargent Fishqc.com cooperates with Chinabeauty.cn to screen high-quality formulas in safety and efficacy via the world's leading Nobel Prize biological detection technology, in a bid to promote China-made cosmetics industry to achieve higher quality standards. In the competition, formulas of three products including
Hyaluronic Acid Whitening Hydrating Essence, Peptide whitening anti-aging freeze dried powder, Cannabis Sativa Whitening Soothing Mask have been rated as "Green Fish (Quality Excellence)". Meanwhile, the three products were tested for zebra fish embryo whitening freckle-removing efficacy, with the result "significant whitening efficacy".
Next, let's learn about the whitening effect of these three award-winning products via a short video!
In addition to the three award-winning products above, NBC has also developed Corallina soothing and protecting series for users with sensitive skin, double lifting mask series which subvert industry perception by effectively solving pain points such as mask absorption and comfort level, and probiotics balance series to balance skin microecology by means of biotechnology. Products and formulas developed by NBC are more efficient, safer and more segmented, which keep pace with the trend "efficacy-oriented skin care".
In the year 2020, which sees twists and turns as well as challenges, "China-made Goods" faces new opportunities, for consumers are willing to embrace innovated domestic products with high quality. As the leading cosmetics manufacturer in China, we will continue to take safety and quality as our responsibility, and supply more high-quality products for China's cosmetic industry with our innovative research strength, so that users worldwide can better feel the power of China's cosmetics manufacturing.
Fishqc.com technology introduction
Fishqc.com has, in an innovative way, used the Nobel Prize techniques — testing technique for chronic toxicity of mackerel killifish embryos and testing technique for acute toxicity of zebrafish embryos, to test for thousands of toxic substances in a single test. Green Fish products standing for high quality are selected through three levels of strict criteria: two biological tests, combined with ingredient screening.