Fine Whitening and Firming Mask, Firmer and Smoother Skin
Soften the look of fine lines and enjoy a more radiant complexion with the Fine Whitening and Firming Mask with pentapeptide, hexapeptide, aloe vera extract, hyaluronic acid and a natural Epidermal Growth Factor (EGF) formula.

OEM&ODM approval
MOQ:50,000packs
GMPC-EU,GMPC-US,ISO

Net: 22ml,25ml,30ml or customized

Ingredients:aqua,Glycerin,SODIUM GLUCONATE,SODIUM LACTATE,Propylene Glycol,Diazolidinyl Urea,Methylparaben,Propylparaben,Hydroxyethylcellulose,Allantoin,PEG-40 Hydrogenated Castor Oil,Disodium EDTA,PARFUM,TREMELLA FUCIFORMIS (MUSHROOM) EXTRACT,jojba oil

Payments: 30% T/T Prepaid, 70%T/T Payable at sight of B/L

FOB Zhongshan or CIF approvalfacial mask for female moisturizing and hyoratingThis luxurious mask utilises 100% natural cotton that is exceptionally light, thin and elastic - you won't notice it's there while you engage in your usual activities e.g. watch TV, read a book or do light chores. The feather-like texture of the mask adheres to your facial contours and enables your pores to breathe through it as it delivers the active ingredients into your skin. Suitable for all skin types. Ideal for men too.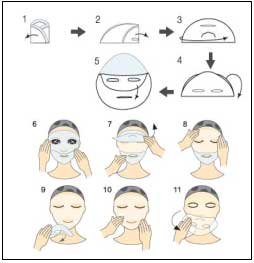 Experience results after each application!
Your skin will feel an instant surge of moisture. Skin is plumped up, feels smoother and firmer, and looks fairer with a youthful glow. Great as a pick-me-up before an outing, party or function. No hassles, no fuss, just beautiful skin!