Hong Kong, November. Hong Kong not only is world's most crowded shopping paradise and a blessed land for gourmet lovers; it is also a place to find beautiful things and people. From 14th to 17th, a new star of high-end functional mask - has its first show of biomass graphene mask in Asia's largest international beauty exhibition - Cosmoprof Asia. It received positive comments from both domestic and foreign buyers. People were enthusiastic in pursuit of and compete to try out this new product. The thousands pieces of biomass graphene mask we have prepared for the event, were all given out in just two days.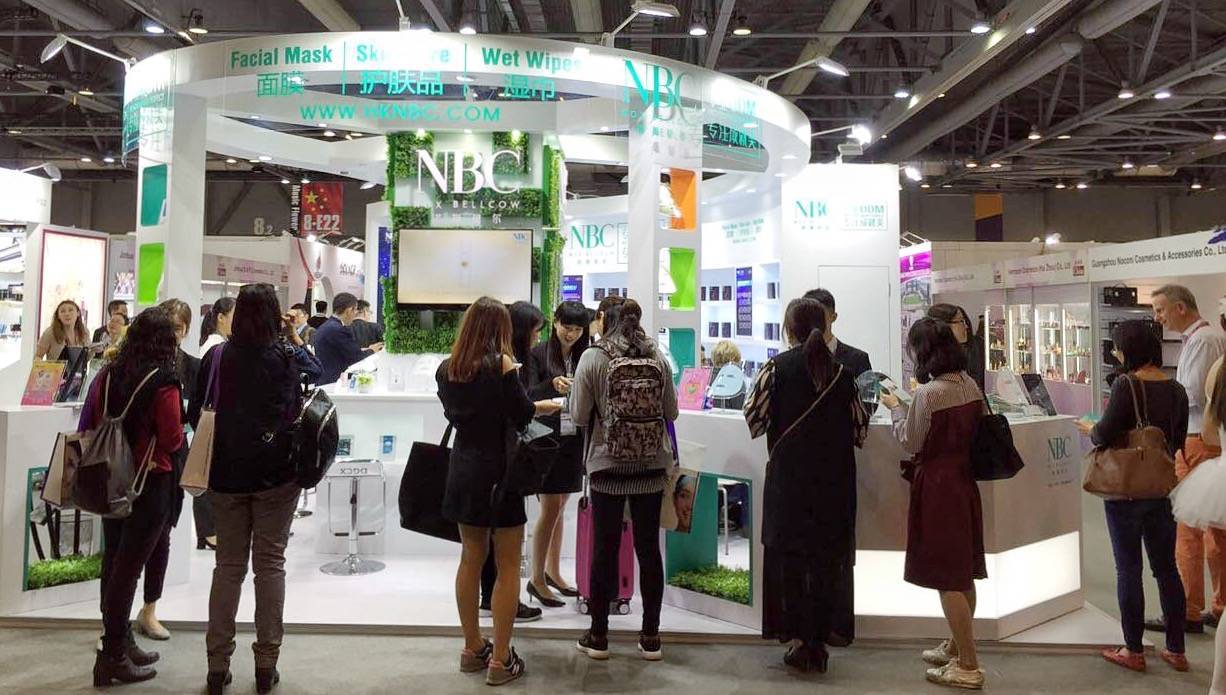 Nox Bellcow's booths in AsiaWorld-Expo (AWE) and in Hong Kong Convention
and Exhibition Center (CEC) both have design with distinctive color
A personal experience on the new star mask
Biomass graphene mask surprised many domestic and foreign brands owners

In the Hong Kong Cosmoprof Asia, biomass graphene mask was undoubtedly one of the brightest star masks. Many brand owners said that when examined closely, the base fabric of the biomass graphene mask has showed three-dimensional details in the visual of its unique hexagonal structure. The application of high-speed water jet through the process can make the mask cloth becomes softer and more flexible. This perfect fit on face meaning the essence can provide intensive nourishment for our skin.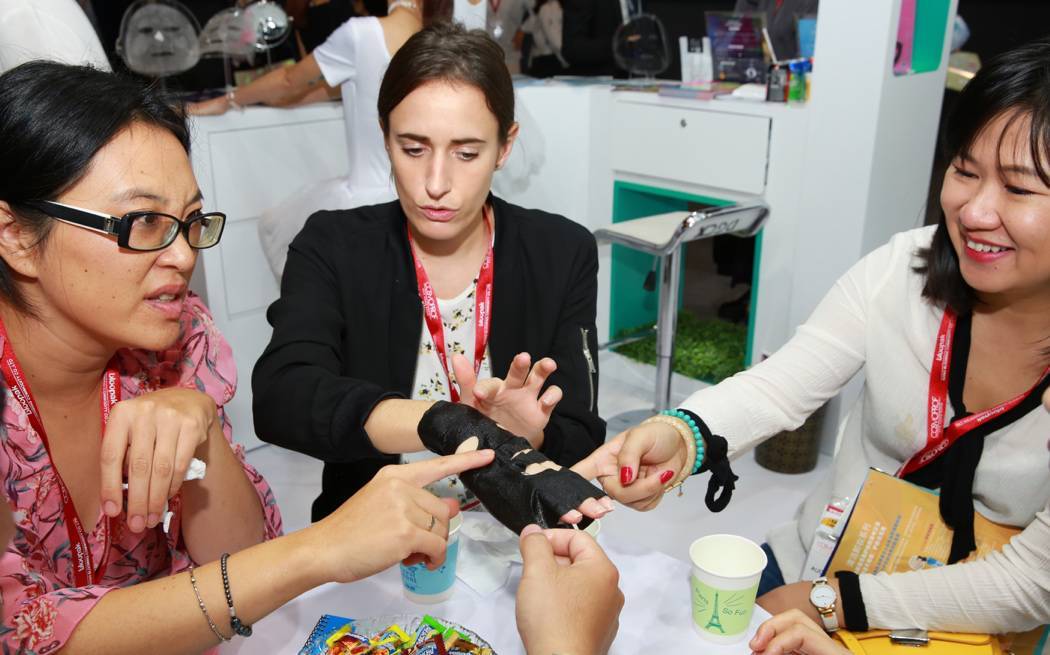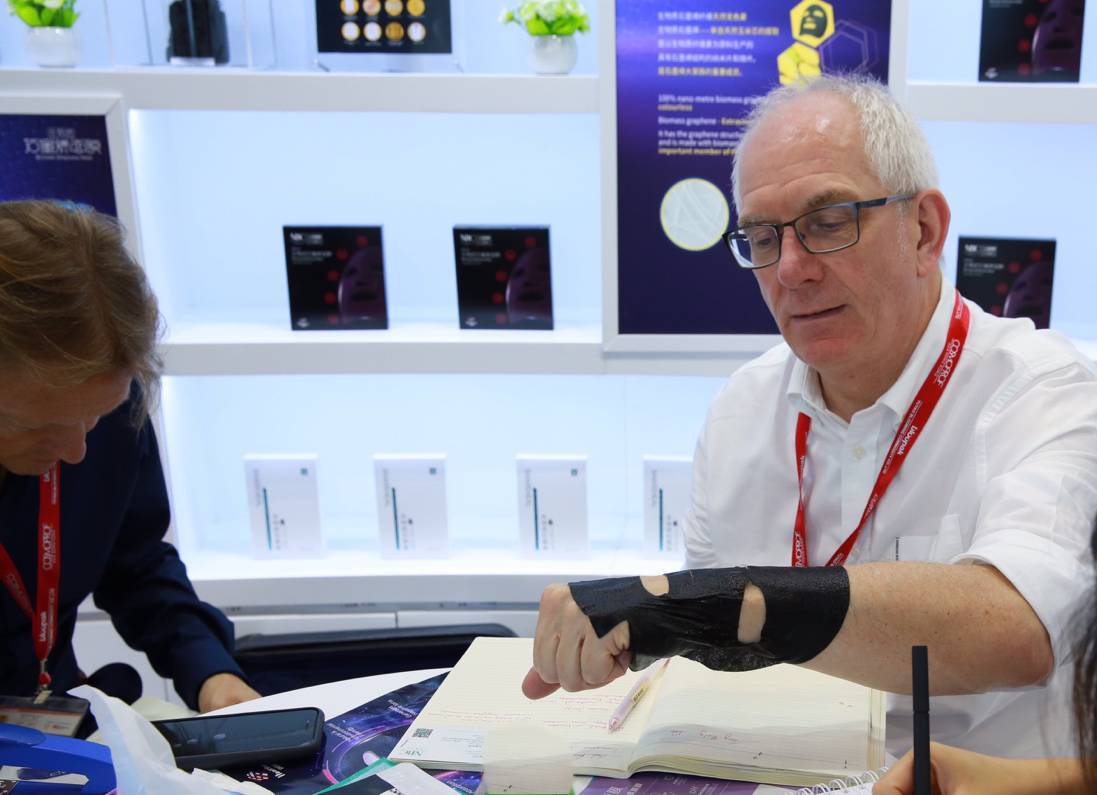 Brand owners experienced the softness and great fit on skin of the biomass graphene mask on site
Foreign brand owners have long heard of world's hot "black gold material" –graphene. In this event, they recognized that the extraction of biomass graphene is from natural corn cobs. They learned that it was made with a green, renewable recycle process that has biodegradable properties. They praised the biomass graphene mask as it's more in line with the international standard to promote the concept of natural environmental friendly.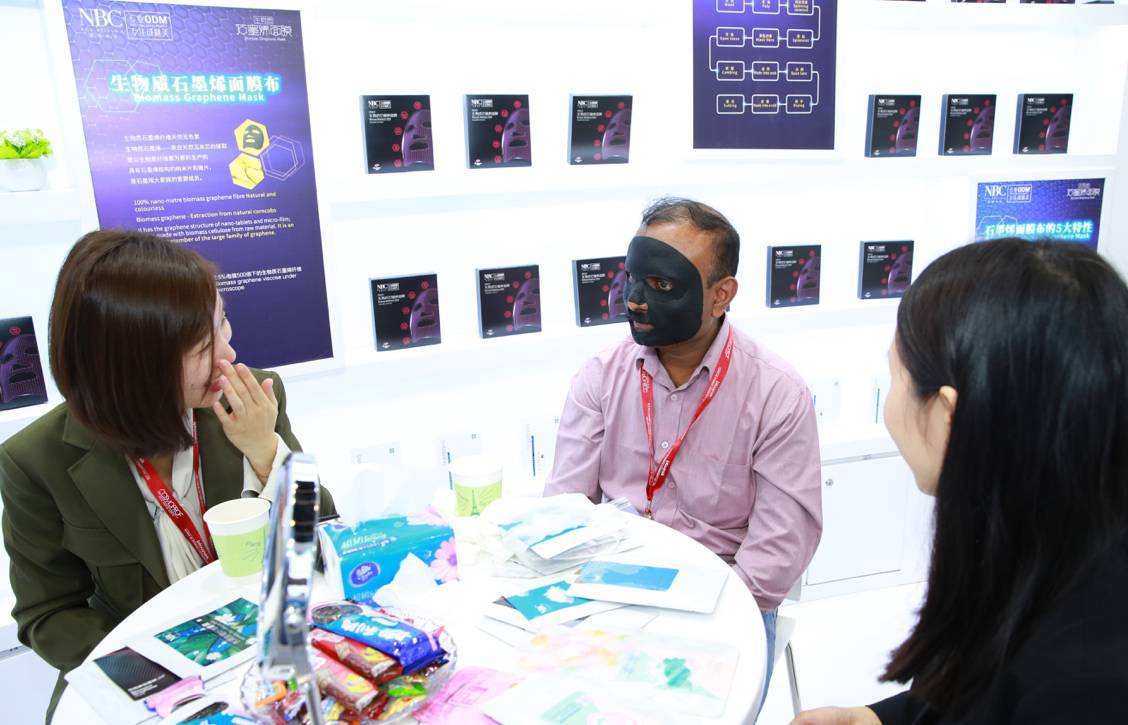 Brand owners praised the biomass graphene mask for making skin becomes moist and shiny
The special feature of Biomass graphene mask's coming with function, is very much praised by our visitors. Because of its rich porous structure, biomass graphene mask has strong adsorption, and can adsorb heavy metals particles and PM2.5 due to exposure to bad air, and the dirt and make-up residues stained on our faces. Visitors were amazed by the results after applying a biomass graphene mask for 15-minutes; they saw the mask took away excess oil on their faces, and their issues of having large pores and redness due to acnes have been improved to some extent. They felt their skin surface became slightly warm which was a feeling they appreciated, and thought biomass graphene mask really is an unique item.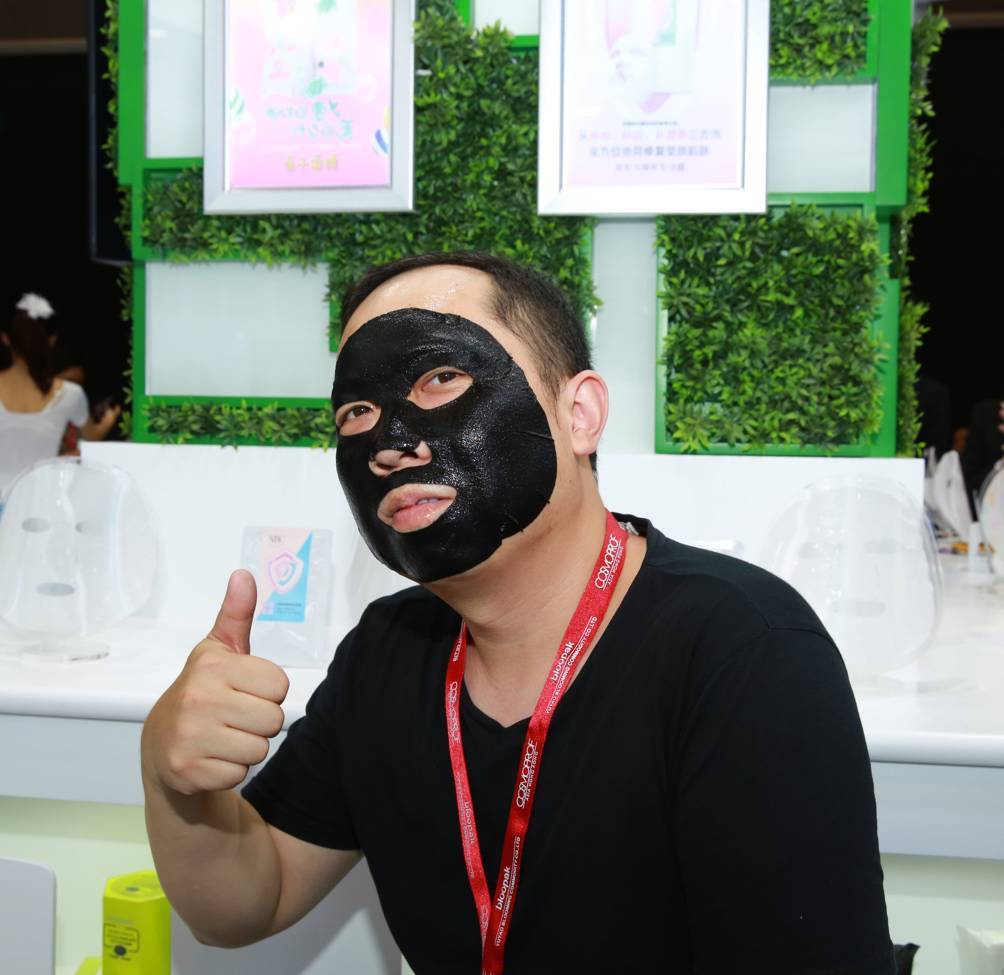 Brand owners LIKE biomass graphene mask's coming with functions!
During the four days exhibition, more than 1,000 guests came to share their experiences on using biomass graphene mask. They gave full affirmation on graphene mask's excellent performances on strong adsorption, far infrared emission, antibacterial, negative ion generation, and natural environmental friendly, etc.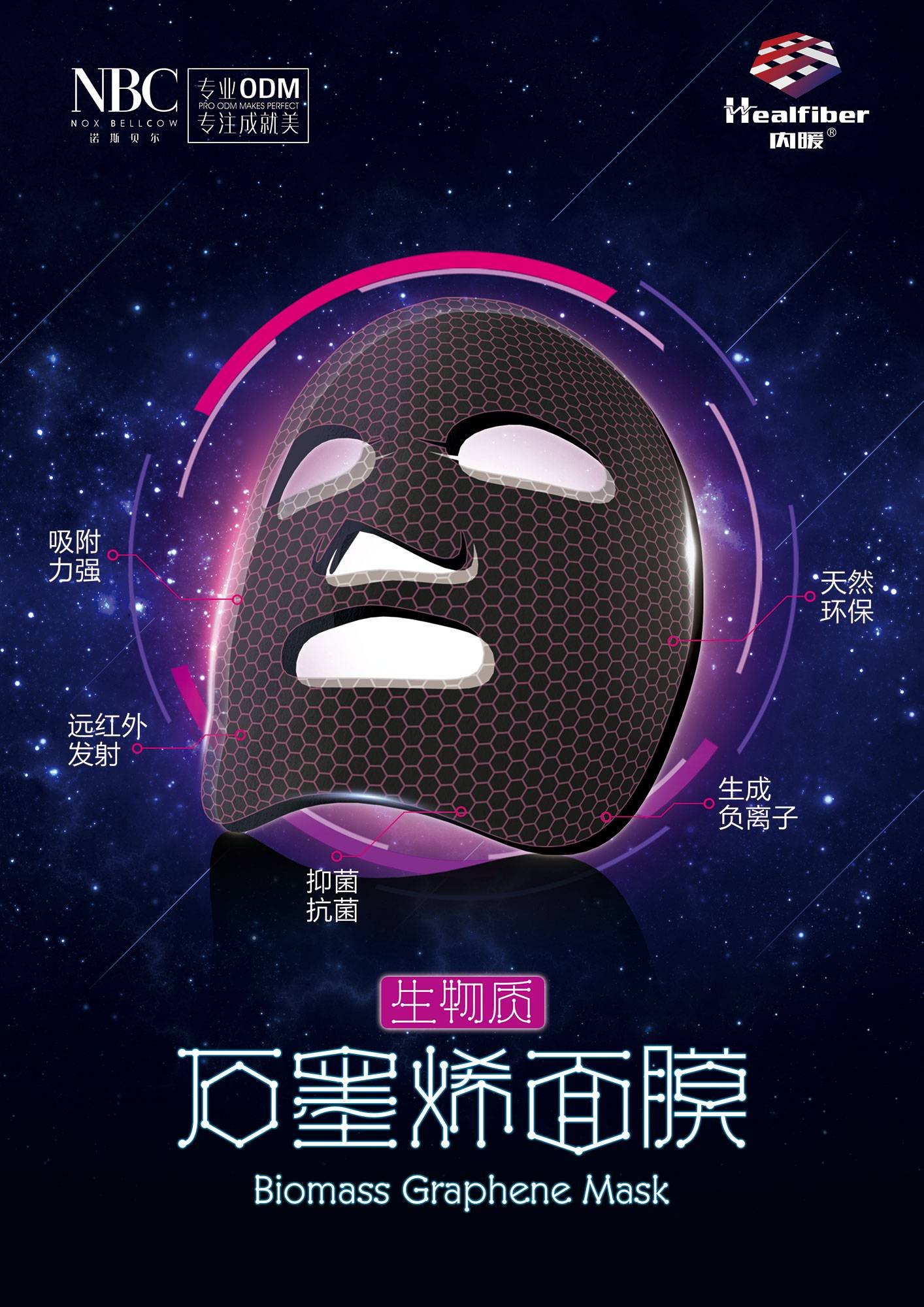 "Black gold mask power"- a biomass graphene private sharing event

A two-way interpretation on technology + consumption

In the "Black gold mask power"- a biomass graphene private sharing event that combined professional technology and consumer perspective, Nox Bellcow's exclusive partner - Jinan Shengquan Group's General Manager of marketing, Li Ying, and Director of the High-end Equipment Center, Jinan Shengquan Group, Peng Guobao, have conducted a wonderful microcirculation test on biomass graphene mask and interacted with the audience.
Peng Guobao, Director of the High-end Equipment Center, Jinan Shengquan Group, has put the probe equipment close on a foreign brand owner's skin to observe the differences between an ordinary mask and the biomass graphene mask in generating microcirculation injection volume. After a round of testing, compared to ordinary black mask, biomass graphene mask hasshowed significant improvement in microcirculation injected volume. This result confirmed that the biomass graphene mask with far-infrared emission characteristic can help to accelerate skin's surface temperature; telangiectasia appeared to improve microcirculation. In addition, skin pores can be opened to promote nutrients in the mask to penetrate into skin, thus enhancing our skin's absorption of essence. The functions of the mask are more effectively displayed. Visitors had the perception of biomass graphene mask being a good product in improving our microcirculation. They were pleased to have this new skincare and beauty experiences with a new black mask.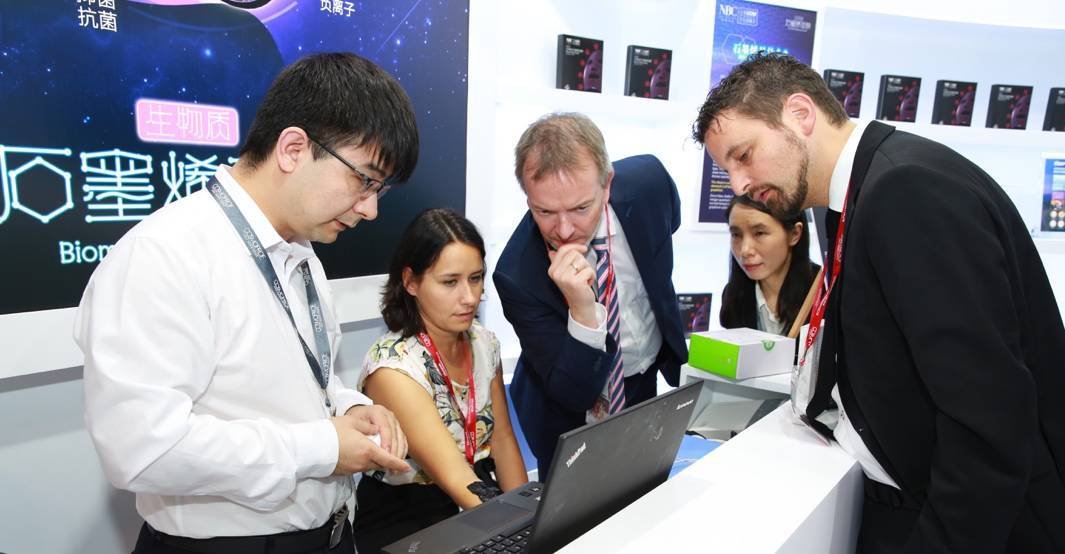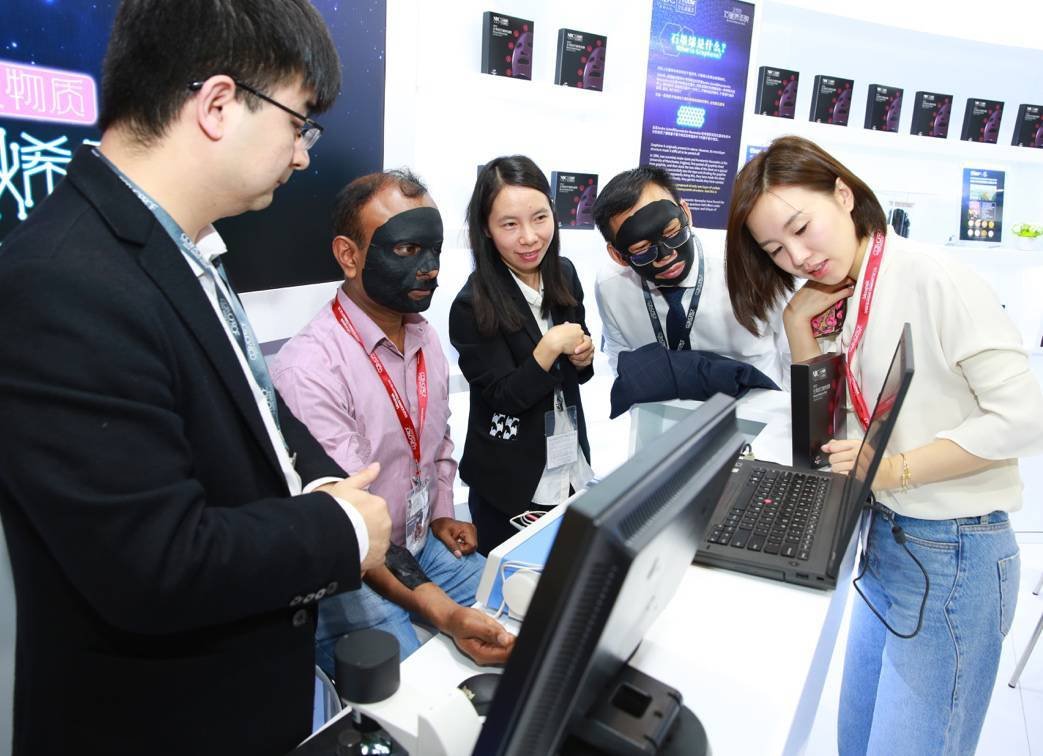 Brand owners praised the biomass graphene masks in effectively improving facial microcirculation
In addition to biomass graphene mask being the center of attraction in the show, our new Star Mask members of the 2017 were even more exciting and brilliant! "Air Feel" TENCEL® Mask is an upgraded version of our previous TENCEL® mask in terms of the use of material. Its "breathable. Fluffy. Soft. Beauty." features have further strengthened consumers' fondness in thin and light mask material. The pocket mask is a breakthrough in regards of traditional mask packaging size. This sheet type mask is created due to consumers' need of a portable, easy to share, fast to use; anywhere, anytime. This mask can also be shared between mom and kid, making skincare time become fun, and the simple formula is safe and comfortable to use.
This is the 7th time we set foot on this Asia Pacific journey. Nox Bellcow is full of strength and pride, and is always ready to take any challenge in the ever changing field of mask's research and development. The trend of having "R & D platform, production automation, systematic management, promotion normalization" is in full force. In the future, Nox Bellcow will set off with our customers on a journey filled with highly integrated skincare and beauty technology.
About Cosmoprof Asia


Cosmoprof Asia is the most important international beauty exhibition in the Asia Pacific region. It is its 22nd session in 2017, and it continues to follow the concept of "one exhibition, two places," and held at AsiaWorld-Expo (November 14th-16th) and Hong Kong Convention and Exhibition Center (November 15th-17th) in the same period of time. As the leading B2B beauty exhibition in the Asia Pacific region, the event is not only the center stage to showcase latest trends in cosmetics industry, it also acted as the important channel for beauty practitioners to exchange views with industry leaders and peers, and for gaining various market information.